Hello, everyone! I'm super excited to be one of the stops for my fellow HarperVoyager author A.F.E. Smith, celebrating the upcoming release of her fantasy novel Darkhaven. In addition to the tour, there's also a giveaway and a scavenger hunt, which is pretty awesome, so check out the bottom of this post for details.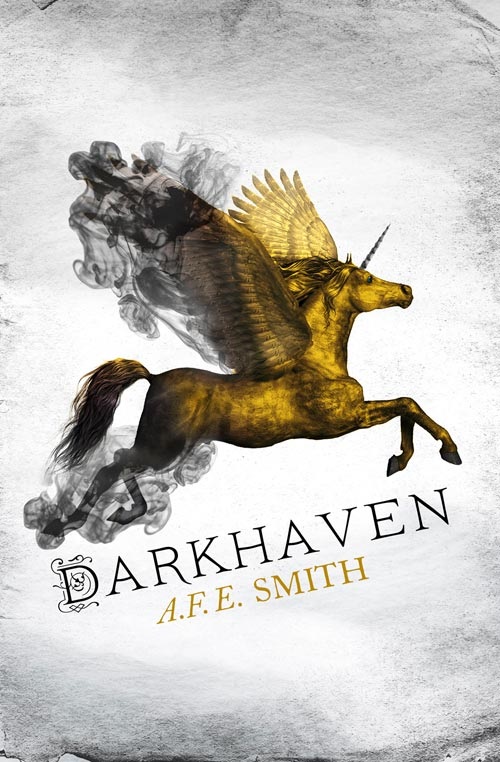 So, first things first: The book blurb.
Ayla Nightshade never wanted to rule Darkhaven. But her half-brother Myrren – true heir to the throne – hasn't inherited their family gift, forcing her to take his place.
When this gift leads to Ayla being accused of killing her father, Myrren is the only one to believe her innocent. Does something more sinister than the power to shapeshift lie at the heart of the Nightshade family line?
Now on the run, Ayla must fight to clear her name if she is ever to wear the crown she never wanted and be allowed to return to the home she has always loved.
Sounds pretty epic, doesn't it? I'm definitely looking forward to the 2 July release. As an additional treat, we managed to snag a few minutes with the main character of Darkhaven, and she's graciously agreed to allow us a short interview. So, without further ado, we introduce to you Ayla Nightshade.

---
Thank you for taking time to join us, Ayla.
You're welcome.
How old are you, and what is your occupation?
I'm 18 years old. As for occupation, I spend my time learning the things my father feels are necessary for me to learn, attempting to persuade my father to let me go flying, and – recently – trying to convince my father that disinheriting my brother in favour of me is a horrible, unfair idea. My father and I argue a lot.
Wow that's really interesting. Where do you live?
In Darkhaven, my family's ancestral seat. It's a tower at the very centre of Arkannen, which is the capital city of Mirrorvale, which is a little country caught in the middle of several larger neighbours. So you could say I live at the centre of the known world … and yet I've barely seen any of it.
Sounds like that could be frustrating at times. Who is the closest person to you?
My brother Myrren. We're the only two Nightshades in our generation, so we've always been close. He was the one person who could bring me any comfort at all after my mother died. Sometimes I think I'd go crazy without him.
Of course, Myrren is a very sweet person. Not like me. So I always feel it's my responsibility to stand up for him against our father. Don't misunderstand me: Myrren would defend me to the death, just as I would him. He is a Nightshade, after all. But he's also a peacemaker. He prefers to avoid conflict, if he can.
What is your greatest fear?
Losing Myrren. Being locked up in Darkhaven forever. Losing my gift.
What unique traits do you possess?
The obvious one would be the gift I mentioned … I can turn into a winged unicorn. Shapeshifting is a gift that's unique to my bloodline; all the Nightshades have it, which is why we rule.
I say all, but Myrren doesn't. He was born without the gift. That's why my father wants to disinherit him. But a winged unicorn isn't a traditional Nightshade form either – unicorns aren't meant to have wings – so it's not as if I'm that much better as a choice of heir. You may be able to see why our father considers the two of us to be a terrible disappointment.
I'm definitely beginning to understand! Can you describe your idea of a perfect day for our readers?
My idea of a perfect day exists only in the past, because it would have to be when my mother was still alive. And really, it wouldn't matter what we did, as long as she was there. There was one time when Myrren and I both had an afternoon free – which was rare, even back then, because we were both kept busy with lessons and the like. Anyway, my mother packed up some food and took us out into the grounds of Darkhaven. We sat on the grass and had a picnic. I don't even remember what we ate. I do remember it rained a little, and I complained about getting wet, and she laughed and said The rain will only bother you if you let it, Ayla. I'd have that soggy picnic again in a heartbeat.
If I asked someone else to describe you, what would they say?
Depends who it was. My father would probably describe me as argumentative, disobedient and too stubborn for my own good. I think Myrren would come up with slightly kinder adjectives … though probably still the stubborn part.
Do you have any deep dark secrets you care to share?
Sometimes I wish my father was dead.
Look, I love my father … I think. He's my father. I'd grieve for him, if he died. And yet … there's no denying that we'd have a lot more freedom without him. I wouldn't have to feel ashamed of my other form. And Myrren wouldn't have to live under the weight of all those disappointed expectations.
Still, it's hardly relevant. Very little kills a Nightshade. No doubt he'll live for years.
That was certainly some amazing insight, Ayla. Thanks so much for taking the time to speak with us!
---
And I hope all of you will be reading Darkhaven. I know I will.
Book title: DARKHAVEN
Author: A.F.E. Smith
Genre: Fantasy
Publisher: Harper Voyager
Release date: 2 July 2015 (ebook), 14 January 2016 (paperback)
Price: £1.99/$3.99 (ebook)
Buy DARKHAVEN
HarperCollins
Amazon (global link)
Barnes & Noble
Google play
iBooks
Kobo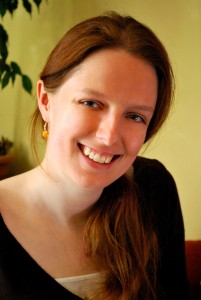 A.F.E. Smith is an editor of academic texts by day and a fantasy writer by night. So far, she hasn't mixed up the two. She lives with her husband and their two young children in a house that someone built to be as creaky as possible – getting to bed without waking the baby is like crossing a nightingale floor. Though she doesn't have much spare time, she makes space for reading, mainly by not getting enough sleep (she's powered by chocolate). Her physical bookshelves were stacked two deep long ago, so now she's busy filling up her e-reader.
What A.F.E. stands for is a closely guarded secret, but you might get it out of her if you offer her enough snacks.
Website
Facebook
Twitter
DARKHAVEN on Goodreads